I've been using my HTC touch HD for almost 2 months now, it's about the same period of time my friend's been using his brand new Android powered mobile phone, HTC Magic. Ever since we started using our new phones, we've been having several discussions trying to figure out which smartphone is worth the money spent for it.  Many people especially developer or techie might ask "why wasting time comparing these 2 phones?" because they would vote for HTC Magic anyway.  Anyhow, my intention in writing this review is just to provide you with the truth about the phones through my own personal experience. So I decided to make a comparison between these two devices –"HTC touch HD", one of the most complete multimedia supported phone available in the global market and "HTC Magic", the one that is expected to be an iPhone killer.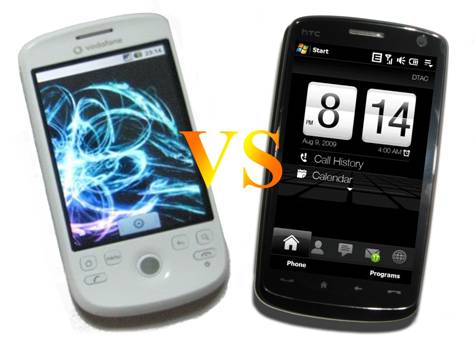 Overview
If you have owned a Windows Mobile device for the past 4-5 years, then you are familiar with Windows Mobile tab style user interface and its sluggish-paced product development (from Windows Mobile to Windows Mobile 5 and later on Window Mobile 6)……. The Windows Mobile seemed to raise brand and product awareness among current and prospective end users until Apple adapted an idea of touch-screen capability into their groundbreaking product "iPhone". The launch of Apple's iPhone attracted a lot of attentions from various group of users, especially from young people because of its stunning display, sleek design, and innovative multitouch user interface. Unfortunately, the advanced technology of iPhone has causing HTC Windows Mobile devices to becomes obsolete. 
In order to compete with the iPhone, new HTC models with new user interface were launched. The first one is their self-developed graphical user interface called TouchFlo 3D.  Later on Google was in for the challenge, they cooperated with HTC to develop more powerful OS onto the device called "HTC dream", which is the first model in android-running mobile phone.  Recently HTC Magic was launched. And now, the story is getting closer to the climax.
Specification
| | | |
| --- | --- | --- |
| Model | Touch HD | Magic |
| Manufacturer | HTC | HTC |
| Networks | 850/900/1800/1900 WCDMA 900/2100 | 850/900/1800/1900 WCDMA 900/2100 |
| HSCSD | N | N |
| GPRS | Y | Y |
| EDGE | Y | Y |
| UMTS | Y | Y |
| HSDPA | Y | Y |
| WLAN/Wi-Fi | Y | Y |
| Weight | 147 | 119 |
| Size (HxWxD) | 115x63x12mm | 113x55x14mm |
| Battery | 1350 mAh | 1340 mAh |
| Standbytime (m) | 450 | 420 |
| Talktime (m) | 390 | 450 |
| SMS | Y | Y |
| MMS | Y | Y |
| Email | Y | Y |
| Irda | N | N |
| Bluetooth | Y | Y |
| USB connectivity | Y | Y |
| GPS | Y | Y |
| Java | Y | Y |
| FM radio | Y | N |
| Camera | Y | Y |
| Camera resolution | 5 megapixel, autofocus | 3.2 megapixel, autofocus |
| Camera flash | N | N |
| Video recording | Y | Y |
| Number of colours | 65,000 | NA |
| Display resolution | 800×480 | 480×320 |
| LCD size | 3.8 inch | 3.2 inch |
| Touchscreen | Y | Y |
| Memory | 288MB, Expandable with microSD card | 192MB, Expandable with microSD card |
| Ringtones/Music file format | Polyphonic, •AAC, AAC+, eAAC+, AMR-NB, A | Polyphonic, MP3 |
| CPU | Qualcomm MSM7201a 528MHz | Qualcomm MSM7201a 528MHz |
| Operating system | Windows Mobile 6.1 professional  HTC TouchFlo 3D | Android |
| Price | $940 | $740 |
** Comparison Chart from Esato,
Exterior
The Touch HD is well-designed; slim and sexy. The phone perfectly fits in my hand; it has the same size as iPhone 3G. I don't really agree with the details shown in the comparison chart, I found that, with battery, it is lighter than the HTC Magic. I love its button layout because there are only four of them, and it's good to see a 5-mega pixel camera on its back as well as the 3.5mm headphone jack at the top. The Touch HD has the widest screen I ever found on mobile phone Windows device; unfortunately it comes only in black color.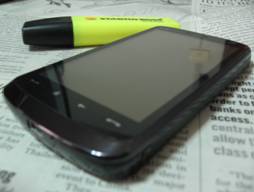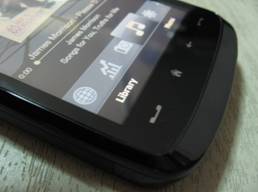 HTC Touch HD
The Magic, on the other hand, has the same sleek and attractive design but slimmer and smaller than the HD, it perfectly fits in one hand. The device has a slight raised profile at bottom, which I personally think that the Magic might look better without it. The bottom part has 6 buttons and a track ball in the middle.  The Magic lacks a 3.5mm headphone jack and equipped with only 3.2 mega-pixel camera. It is only available in 3 colors: white, black and red. So for those who are thinking of buying this device can have their options. The question of "Which color suits you?" is just a matter of personal preference.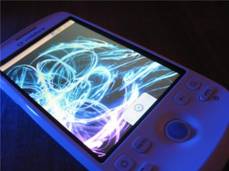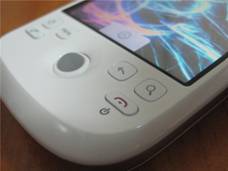 HTC Magic
Interface
I will start with the interface of the HTC touch HD first. The Touch HD is equipped with an interface called TouchFlo 3D, well- known for touch action, designed to use as an integrated interface for the latest Windows Mobile 6.1 platform. The phone looks pretty amazing at first glance: stylish and elegant which will easily grab attention of regular HTC users like me, even before exploring its functions. As you might have seen one already, it is really slick and shiny, isn't it? Basically, the HD's user interface has 11 tabs which include: Home, People, Messages, Mail, Internet, Stock, Photos and Videos, Music, Weather, Settings, and Programs. Navigating through these taps can be done by using either stylus or bare fingers.
Scrolling tab allows users to access most frequently used items for quick and easy text messaging, emailing, etc.  Users can easily flick their finger to move from one tab to the next or even flip up and down through items in particular applications.  Touchflo 3D interface gives you the ability to access specific items without having to go through an applications front door. For example, you can directly open a bookmark in MSIE or play a specific song in your library.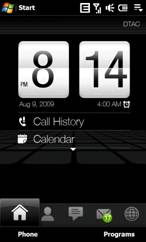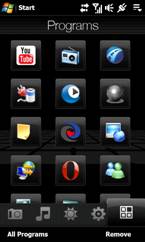 The home and menu screens of the Touch HD
The Magic is a smartphone running on Android (v1.5, a.k.a. Cupcake), a to-die-for google powered OS. Its interface has a sleek, attractive design with vivid color icon display. From my first hand-on experience with the Magic, the phone was really fast and very responsive comparing to other mobile OSes such as Windows Mobile's OS or even Apple IPhone's OS. However, in order to control the device, you can use only the trackball or your finger to navigate through the menus. Unlike the Touch HD, you can not use stylus with the HTC Magic because its capacitive screen dose not support multi-touch yet. The heat sensitive screen will only work with your fingertip. If you have a long fingernail, it would become a little bit difficult to control the device by touch. One semi-hidden feature: the home screen is actually three screens wide; sliding a finger left or right will bring up a blank screen for storing more icons and widgets. It's so cool that you also have copy&paste functionality like in Windows.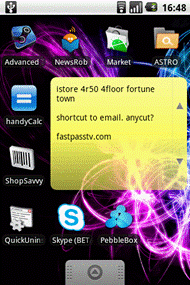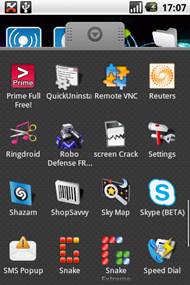 Android's desktop and its menu
The panel at the bottom once pulled out displays the menu of all application, while the top panel notifies about events, battery life, signal strength, incoming phone calls and messages. From my point of view, I really like its Gui design in term of user-friendliness, because users can access almost everything right  from the home screen, they don't have to get into deeper-level menu in order to do operations.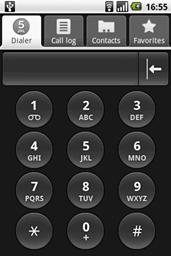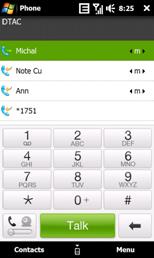 Android's smart dialer (left) compared to TouchFlo 3D's (right)
Resolution
Aimed primarily at entertainment lovers, the Touch HD is actually the first amongst new generation smartphones equipped with a massive 3.8" display screen. It offers WVGA resolution that allows users to watch high bit-rate movies on it.  On the other hand, the HTC Magic with its  3.2" display screen cannot even be compared with the HD, and besides that it only supports QVGA.  All these nice features definitely put the Touch HD to the top of multi-media smartphones over the HTC Magic. 
On-screen keyboard
One important feature for most touch screen smartphones is certainly the keyboard. Even though both models don't support a slide-out keyboard, they actually provide on-screen keyboard. Look very nice, isn't it? The Touch HD's on-screen keyboard buttons are quite huge and seem to offer a great typing experience. The predictive typing feature is cool for those who always have typos when composing emails or SMS. The best part is that the display is vey sensitive to the touch; only light tapping is required when typing.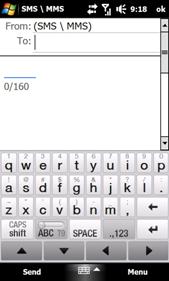 The virtual keyboard of the Touch HD
However, the keyboard of the Magic is only half an inch smaller than the Touch HD. But it makes a big difference when using it. Since the Magic has a capacitive touch screen, for those whose fingertips are slightly large or one who has hand-eye coordination problems - typing speed and accuracy, might find it a bit difficult to work with.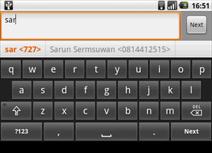 The virtual keyboard of the HTC Magic
Application
The Windows Mobile market share dropped drastically, it's definitely in need of a major overhaul for the next Windows Mobile OS to survive. According to statistics from a global leading ad network, admob, as that of Android is going with a good prosperity.  The number of android apps currently available in the market might be relatively small, but in two years you might see many of new applications coming out on Android. This will happen once more developers and manufacturers start to work on Android platform.
For Android, there are already a number of applications out there. The Magic is preloaded with YouTube app, Google Latitude, Android Market & Google Talk app. And, if you still want more, it's amazingly easy to download them through Android Marketplace application which also shows other users' reviews and ratings. In addition to that, an application is well organized and sorted in categories. Here are some impressive ones I want to show you: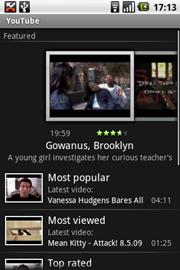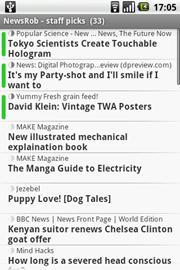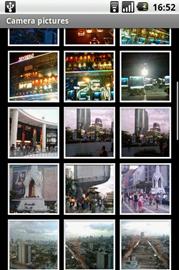 YouTube, news reader, and photo album on the HTC Magic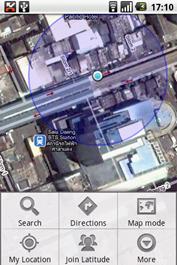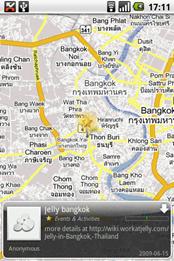 Google maps on the HTC magic
Windows Mobile might have long been around on the mobile market. However, up until now, you might not see well-developed and powerful applications as you first expected. Also, installing software is a real pain. Many vendors might serve you with .cab files while some others allow installation through your desktop computer. The nice thing is that it's equipped with a very good navigation system like Garmin Mobile XT.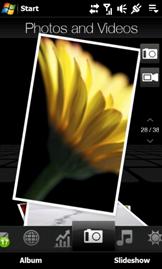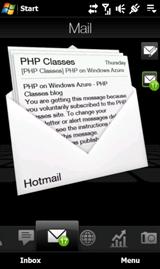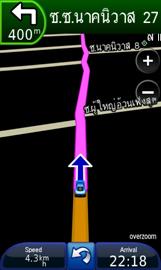 Photos and videos, Mail and Garmin mobile XT on the Touch HD
Simply speaking, either short term or medium term Android would give you better applications than Windows Mobile in term of its usability and performance. This should be seriously taken into consideration when you plan to get a new mobile phone. So, Magic has got to be winner here.
Openness
Surely, openness is the key strength of the HTC Magic, running on Android is what all developers have been waiting for. The ability to access most parts of the OS allows you to have more control over the hardware. For example, users might be able to hook up with its dialer's api to capture some information of each call or even customize the way its LED displays.
Unlike the Magic, Windows Mobile does not allow you to do so.  Thus you can only do whatever their api provides. Moreover, its interface shell, touchFlo 3D, will not allow you to customize things the way you want them to be.
Browsing
The Android is equipped with the webkit browser that serves the basic needs for surfing the internet. You might find that the user interface is smooth and clean. Pages load quickly, and render perfectly with it.  The browser comes with an user-friendly and efficient bookmark system. However, there are a few shortcomings such as lacking flash support and the zoom-in and zoom-out sometimes having problem with texts, etc.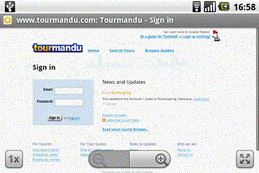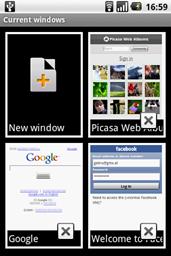 Browsing has never been this easy with Android
For the good use of HSDPA 3G, HTC Touch HD has bundled Opera web browser which many Windows Mobile users would come to love. It offers great internet experience and with the latest version of Opera, you will be able to play YouTube and Streaming video on the web page. Double-tap the screen is for a quick zoom-in and zoom-out. It seems like HTC tries to obsolete the pocket IE in favor of Opera, as it now serves as the default web browser.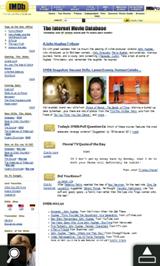 The Touch HD bundled Opera 9.5
Overall the Touch HD's Opera at this point is very impressive for its rich and satisfying mobile internet experience. On the other hand, the Magic's webkit browser also does a very good job when it come to multi-page browsing, rendering speed, and accuracy.
Multi-Media
The Touch HD is a stellar multi-media phone with HTC's bundled media player and standard Windows media player. All these enable playing all file formats without any problem.  It really provides excellent audio experience.  And, watching movie on the device is far more favourable when compared to the other devices I ever tested.
The Magic, on the other hand, is on par with many other touch-screen phones currently available in the market in term of multimedia capabilities.  The only downside is that the Magic is still lacking support for many current standard multi-media file formats. It only supports MP4 and 3GP.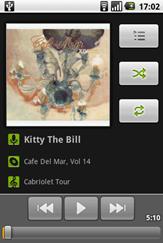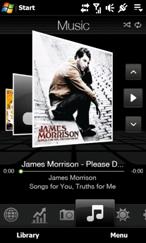 The music player of the HTC Magic (left) and Touch HD's (right)
Connectivity
I tested Wifi connectivity on both the Touch HD and the Magic, these two gadgets show a very good performance. Unfortunately, in Thailand where I do this review, 3G network is not available yet, I tested them on existing 2.5 G network.
There is one shortcoming of the Magic; its Wifi won't always stay connected even if its option has been set to maintain Wifi connection. This only happens when the device is gone into idle mode.
Conclusion
To wrap things up, both of them actually consist of advanced features and are great gadgets to use. HTC Magic has a lot of cool features we can talk about such as its full touch-screen support, full customizability and extensive Google integration. Thanks to Google for inventing an awesome OS like Android. For me, HTC Magic is a winner in terms of touch-screen performance, internet device, and hackability.
For the Touch HD, it has become a good choice for smartphones in terms of gateway to multimedia. However, due to its Windows Mobile it has really lagged behind Android, I expect to see major improvement of Windows Mobile in the next 6-8 months, otherwise their market share will climb down significantly.
Special thanks to Ann and Michal for editing this work.