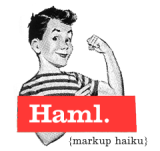 Just a quick post to let everybody know that i'm switching my erb templates over to HAML. All my css with SASS will follow. These two template engines enhance my productivity a lot. it's compatible with rails 2.
I must admit that there are still some issues like: No ruby code on multiple lines to format the code properly on very long ruby statements. And: HAML source code highlighting in netbeans plugin is quite old and not updated, but this doesnt stop me from using it.
just checkout the "showdown" on the bottom of the first page to get a feeling of HAML.